Baton Rouge Louisiana Roofing Contractor
Call Now For Immediate Baton Rouge Roof Repair or New Roof: 
Watch This Video of Roof Crafter's Owner Will Lampton Explaining a Roof Repair
Watch this video of Will explaining a very common Baton Rouge Louisiana roof leak problems, a patio cover leaking. Will is going to walk you through the correct way to repair a leaky patio cover so you do not have to worry about a leaky roof during your family time.
Watch this client video testimonial to see how Roof Crafters handles every roofing client. Watch as Mr. Tony Minnis tells about how Roof Crafters helped him with his Baton Rouge Louisiana roofing services. Then listen as Mr. Tony talks about how Roof Crafters also helped get a new roof for his mom's house.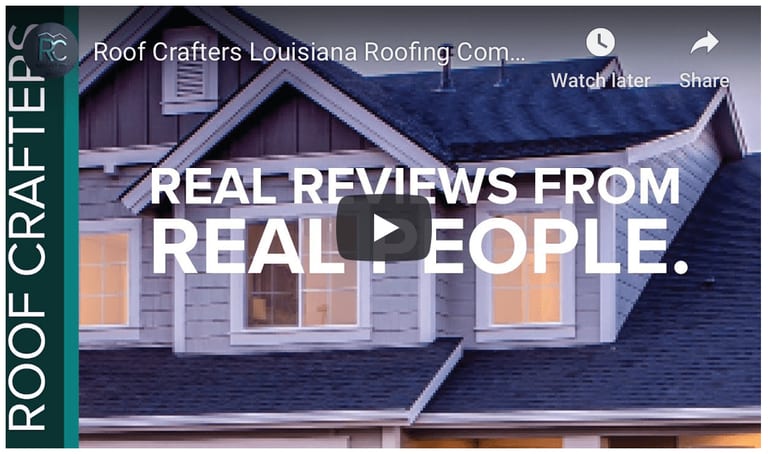 Baton Rouge Louisiana roofing services: Licensed Baton Rouge Roofer Providing Roof Repair & New Roof Installation Services
Check out this Baton Rouge homeowner's great five-star Google review. Roof Crafters goes into every roofing job looking to make a Google five-star review with you! Follow the link in the five-star review and read as many of our Google reviews as you can. At Roof Crafters, we welcome you to read every Google review we have. They are not all perfect and neither are we but you can see in our reviews we do not stop until you are 100% happy.
Roof Crafters is Baton Rouge's premier roofer providing roof repair, new roof installation and skylight replacement services for residential and commercial clients in Baton Rouge and surrounding cities. Roof Crafters are experts in handling insurance-related roofing claims and is committed to offering the best workmanship warranties in the state of Louisiana.
Utilizing the Equipter, no mess new roof system. Roof Crafters is capable of leaving a much smaller footprint than other roofing companies. Roof Crafters was the first roofing company in the state of Louisiana to bring the Equipter to roofing.
Roof Crafters keeps proving it's a leader in the roofing industry. Roof Crafters developed its very own roofing CRM so every client of Roof Crafters has their very own client portal. Now called SSA and sold nationally to other roofing companies, this technology was first developed by Roof Crafters just for our roofing clients.
Now listen to a special episode of the Roof Crafters podcast with Michael Warren, Roof Crafters operations manager local to
Hammond Louisiana
talking about the brand new customer service department. Listen to Michael take a deeper dive than the video talking all about the new customer service department for Baton Rouge.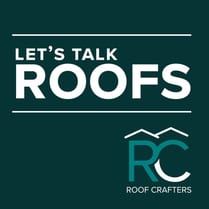 Roof Crafters has certifications from the roofing industry's biggest names. Roof Crafters is Select Shingle Master with the CertainTeed Corporation. CertainTeed has been around since 1904 and has been recognized as the top brand in not only roofing but siding as well. With the power of CertainTeed, Roof Crafters is able to offer fifty-year warranties. CertainTeed gives Roof Crafters the backing so Baton Rouge homeowners can have true peace of mind with any project with Roof Crafters.
Roof Crafters is also a Preferred roofing contrator with Owens Corning Corporation. Everyone knows the Pink Panther, the Owens Corning mascot. Owens Corning is not only known for its roofing shingles but also its attic insulation. Check out this link to the Roof Crafters profile page on the Owens Corning website of the best Preferred roofing companies in Baton Rouge. Roof Crafters is the only Owens Corning award-winning Preferred roofer on the list. 
Roof Crafters is also Top Of The House certified with Owens Corning. With the Top Of The House certification, Roof Crafters is positioned to give homeowners expertise in attic insulation projects as well. Roof Crafters will explain to you how your attic ventilation and insulation work as a system along with your roof. All being your complete roofing system.
Roof Crafters is the only 5-Star Velux Skylight installer in the state of Louisiana. Once again Roof Crafters shows how we are different from all other roofing companies in Baton Rouge and the entire state of Louisiana. No other roofing companies in Baton Rouge or the state of Louisiana for that matter hold all the certification from the roofing industries top companies.
A Little About Our Great City Of Baton Rouge
Please Visit Us on Google Maps
For quick driving directions click our Roof Crafters Google Plus, Link Here
As the capital of Louisiana, Roof Crafters service area Baton Rouge is a growing metropolis that is full of unique features. From the historic Neo-Gothic Capitol building to its booming industrial center and a busy port, the city offers many uncommon charms and cultural experiences. It also has a unique set of weather conditions and other factors that affect the integrity of the roof on your Baton Rouge home or business.
From wide-ranging temperatures to the annual dangers of hurricane season, all structures in Baton Rouge face a host of potential damages. Category five Hurricane Katrina may have made the city a refuge for displaced victims, but it easily could have been the focus of the storm's fury. With these concerns, it's very important that Baton Rouge-region buildings — and their roofs — are up to the challenge.
You can't talk about Baton Rouge without talking about our LSU Tigers. Yes, Roof Crafters loves our Tigers. We always support our Tigers and wish them the very best season we can have. Let's hope for a national title this year!
To ensure that your roof's design and roofing materials are a match for weather conditions where you live, your best strategy is to hire a local Baton Rouge roofing contractor with great Google reviews that you can trust. With a focus in Louisiana and the Baton Rouge area, Roof Crafters, LLC knows the unique challenges for roofing in your region — and can meet those challenges with a high-quality shingle and roofing solutions. We have nearly a generation of experience in Baton Rouge, Louisiana and other regions of the state. With a reputation for providing the best in roof repair, replacement, and other roofing-related services, our professional roofers are invested in the community and continuing to deliver quality work.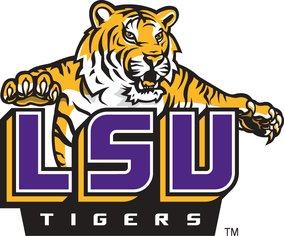 Roofing Services Offered:
Attic Insulation
New Roof Installation   
New Skylight Installation & Repair 
Roof Repair 
Helpful Information During A Roofing or Home Improvement Project
Pre-Job Checklist
Common Roofing Questions After A New Roof Install
Help with Insurance Claims             
About Leaks That Are Not From Your Roof
Help with Mortgage Check Endorsement
For The DIY Ladder Safety
Roof Crafters Client Portal
Shingle Warranty After Spray In Foam Insulation
Top Reasons To Buy A Metal Roof     
Different Roof Types
Roof Crafters Extended Roof Maintenance Program
Signs You May Need A New Roof
About the Roof Crafters Equipter        
Proper Roof Ventilation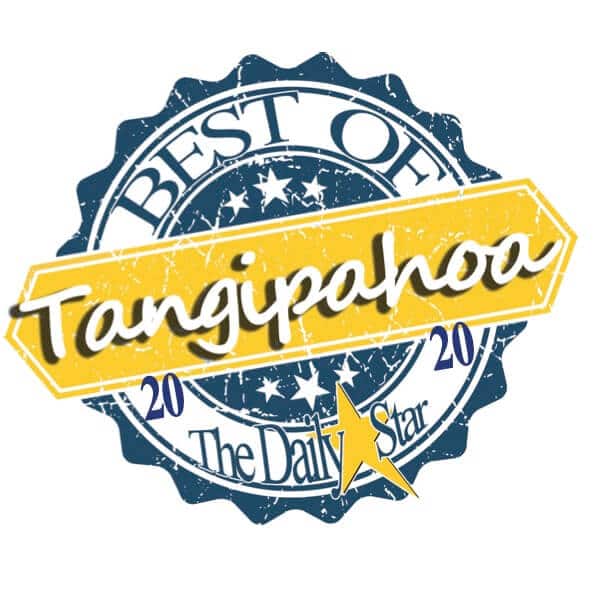 Take Advantage Of This Awesome Offer
Is your house hot? Cold? Have one of the Roof Crafters Top Of The House certified project managers come and do an attic inspection on your Baton Rouge home. See if you are under insulated. According to Owens Corning, a giant in home attic insulation, 92% of all homes in America are under insulated. Call Roof Crafters today and save up to 20% on your utility bill with more attic insulation.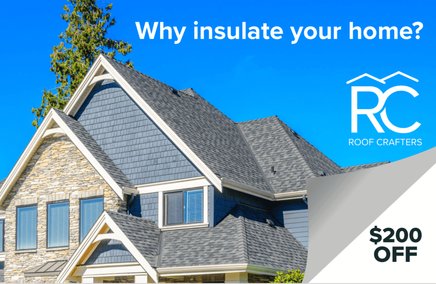 Frequently Asked Questions for Baton Rouge Louisiana Roofing Contractor
Do you service the Baton Rouge area?
Yes, the Baton Rouge area has always been a major service area Roof Crafters. Roof Crafters services the entire Greater Baton Rouge Louisiana area including Denham Springs, Walker, Zachary, Gonzales, Prairieville, and Baker.
Do you have workmanship warranties?
Yes, Roof Crafters gives a five-year workmanship warranty with every new roof we install. The workmanship warranty, as well as the warranty on the new roofing shingles, is transferable if you sell your home. Roof Crafters even has a 10-year workmanship warranty. Listen to this episode of the Roof Crafters podcast by Operations Manager Michael Warren explaining the Roof Crafters 10-year no-leak warranty. Contact us for more details.
Do you do roof repairs in Baton Rouge?
Yes, Roof Crafters loves doing roof repairs. A roof repair is a great way to save money and put off buying a new roof in many cases. Roof Crafters does roof repairs for the entire Baton Rouge metro area. Check out this video about a very common Baton Rouge roof repair, a patio cover leak. 
How long should a roof repair last?
This is a great question. This all depends on what type of roof repair you have done. If Roof Crafters installs a new lifetime bullet boot pipe boot there is a one-year workmanship warranty on workmanship and the bullet boot itself should last 30 years. Other roof repairs will need to be discussed with a Roof Crafters company representative. Roof Repairs like a chimney flashing, valley or skylight will depend on other factors related to your roof.
Do you have a dedicated person for roof inspection for Baton Rouge?
Yes, Chris Davis is our dedicated project manager for the Baton Rouge area. Chris lives in Baton Rouge and is very familiar with all the city streets and can service the city of Baton Rouge well. We also have several other Project Managers that can serve your roofing needs well. Watch the short video of Chris explaining why he wants to work with you. 
Do you install and repair skylights?
Yes, we only install Velux Skylights & Roof Windows. Roof Crafters is the only 5-Star Velux Installer in the state of Louisiana. Velux is the very best skylights in the roofing industry and has a 10-year no-leak warranty that is not matched by any other skylight manufacturer. Check out the Roof Crafters skylight repair video and watch how Roof Crafters installs a Velux skylight then repairs a leaky skylight.