Pros and Cons of Metal Roof vs Asphalt Shingles. With so many different types of roofing materials to choose from, it can be difficult to know which is best for your home. However, when you understand the unique elements of each type of roof and what they can do for you, choosing the right one for your home becomes easier. 
Asphalt shingle roofing has been the dominant choice for residential homes for a long time, but more recently, metal roofing has surged in popularity. Deciding between metal roofing and asphalt shingle roofing is not a straightforward task. Although both products offer their own set of advantages, one will fit your preferences better than the other.
Choosing between metal roofing and asphalt shingles comes down to your specific needs and the – often complicated – tradeoffs between features and cost. This guide will help you determine which residential roof is right for you. We'll look at the pros and cons of metal versus asphalt, as well as explore some of the key differences between them.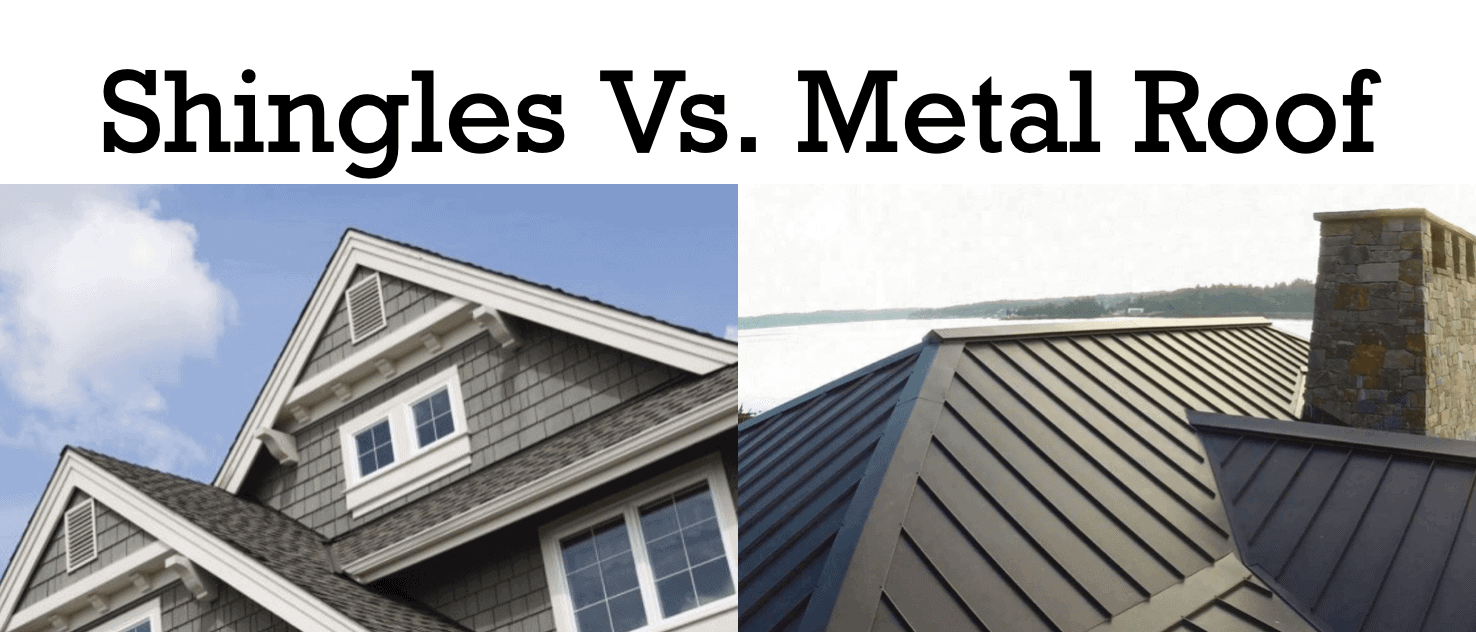 Is a Metal Roof Better Than Asphalt Shingles?
Asphalt shingles and metal roofing are two of the more popular residential roofing materials in the United States. While both types of roofing offer plenty of benefits, they also have some differences that homeowners should be aware of. Both materials will last for many years, but one might be better suited to your needs and preferences. 
When comparing metal roofs versus shingles costs, it's clear asphalt shingles are more affordable. The durability of metal roofing compared to that of asphalt shingles is an easy choice when you're thinking about the long-term cost of replacing them. Over its lifespan, a metal roof will almost certainly be less expensive than an asphalt one. However, if a short-term price differential is important to you, then choose the shingles–they'll cost less upfront.
Asphalt shingles remain to be the most popular material for roofing residential properties and are available in a wide array of colors and textures. Standard, three-tab shingles are most used, though laminated and architectural asphalt shingles are also available. A matting or fiberglass core, an asphalt coating, and a stone or ceramic surface make for a highly durable shingle.
Alternatively, metal roofing tends to be lightweight, as well as durable, and energy-efficient. It also comes in a variety of designs which makes for a versatile and therefore appealing product. But what are their specific pros and cons — and which roof is best for your home?
Pros and Cons: Metal Roof vs. Asphalt Shingles
Pros of Asphalt Shingles
Asphalt shingles are typically considered the most visually appealing roofing option. They offer color and texture in a variety of options so you can easily find a style to compliment your home. Some options can even resemble wood surfaces. They are most likely to be consistent with the other houses in your neighborhood and could be the perfect fit for your home.
Asphalt shingles are simple to install and offer a variety of benefits, making them a great choice for homeowners. They also can help heat your house in the winter, saving energy costs year-round. The material is very durable and will last for years if cared for properly.
Cons of Asphalt Shingles
All asphalt shingle roofing options come in dark tones due to the surface granule color. Its color is typically standardized to match most homes in your neighborhood, as most builders try to keep costs down. The texture creates a monotonous look that some people find to be boring, but only you can decide if this adds value or not. 
While asphalt shingles are easy to install, a DIY installation could void product warranties. If your home is exposed to the sun's heat, an asphalt shingle roof will absorb that heat and keep it inside your house, making it a disadvantage during the hot summer months. Also, due to their reflective nature, these roofs can cause our homes to lose up to 15% of their insulation value when they are installed. Asphalt shingles are recyclable, but they typically end up in landfills, and since they contain some toxic chemicals, they are considered environmentally unfriendly.
Asphalt shingles tend to last around 15 to 20 years, though heavier, laminated versions can last upwards of 50 years. While this is a solid lifespan, when comparing metal roofs vs. shingles, metal roofing lasts much longer.
Pros of Metal Roofing
A metal roof has many benefits over traditional shingles and tiles. Because it is made from an actual metal instead of a material such as wood, tile, or metal that has been painted, it's durable and won't warp or crack over time.  
Metal roofing is available in a variety of styles and colors to complement any home. While there are products available to imitate non-metal materials, such as tile, panels — even wood and asphalt — genuine metal roofing provides a unique appearance that can't be duplicated. 
Metal roofing has become the most preferred option for homeowners seeking a long-lasting, low-maintenance roof. Built from metal, metal roofing is lightweight and easy to work with, especially since it's available in a variety of materials. A metal roof will last anywhere from 40 to 70 years and require very little maintenance. Investing in this type of roofing also helps the environment because metal roofing is made from recycled materials and has a lower carbon footprint than some other materials used for roofs.
Cons of Metal Roofing
Metal roofing tends to come at a much higher price point than asphalt shingles. They are often perceived as being stronger and more efficient than shingle roofs, but they do come with some extra costs. First, metal roofs require an underlying support frame so that they won't buckle in high winds. Second, if installed by a non-professional, they won't last as long and might not be as effective in keeping water out.
Some metal roofing is heavier to work with and can result in cuts to the skin when handled improperly or without the right set of gloves.
Need an Expert for Your Roofing Project?
The Metal Roof vs. Asphalt Shingles decision is a big one and one that will affect your home for decades to come. This decision requires some careful consideration and understanding of what each material will provide for you in the long run.
Whether you're interested in the energy efficiency of a metal roof or the classic design of a shingle roof, trust Roof Crafters for your roof replacement. We specialize in both metal and asphalt shingle roof replacements and use only the best products on the market. When you choose Roof Crafters for all your roofing needs, you can rely on us to get it right the first time around! We are happy to answer any questions regarding your roof and make sure that you are completely satisfied with your installation. For more information about our services or to schedule a free in-home consultation with one of our Roof Crafters experts today, call 225-667-1189 or visit us online.