Debunked! Get the Truth Behind 5 Common Skylight Myths. Skylights have always been a versatile addition to any property. If installed properly, they can help you achieve a stunning open-air floor plan by efficiently regulating the indoor temperature and air for ultimate comfort. However, many homeowners are still not sure whether they should add a skylight to their homes or not. This can be attributed to the widespread myths surrounding this particular roofing component.
One of the major reasons why skylights have gained a bad reputation among homeowners is the availability of very cheap quality plastic skylights. These substandard products are highly susceptible to leaking and cannot provide you with the views you're hoping for.
Fortunately, high-quality skylights from trusted brands like VELUX are leaps and bounds ahead of cheap skylights. The skylights industry has seen a lot of advancements over the years and perceptions of homeowners are also gradually changing especially when it comes to reputable brands like VELUX.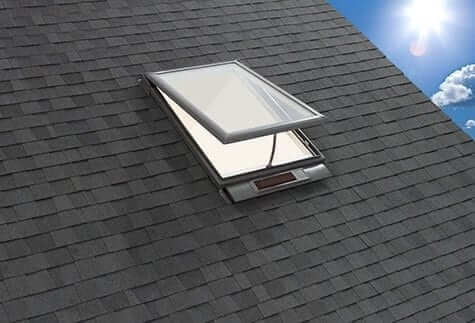 Myth #1: All Skylights Are Prone To Leaking
This one is probably the most common myths about the skylight in any part of the world. People have this misconception that if you make a hole in the roof, it will pave the way for water leaks at some point in time.
The good news is that with trusted brands like VELUX and their unrivaled "No Leak" Skylights, you'll never have to worry about this issue. VELUX skylights come with three exceptionally durable protective layers for optimum protection against the elements.
Moreover, their 10-year installation warranty, along with electric and solar options and features like automatic opening and closing of skylights as soon as they sense rain is enough to assure homeowners that they won't have to deal with skylight leaks ever in their lives.
Myth #2: Skylights Cannot Be "Turned Off"
Some homeowners are concerned that they cannot turn off their skylights during the day. They often complain that they cannot achieve the 'pitch black' indoors because their skylights will always be in "switched on" mode. Fortunately, Velux has offered a very cost-effective solution to this problem – the skylight blinds. Ranging from blackout to Venetian, these affordable and versatile blinds allow you to block out as much light you want at any time of the day. You can add blinds to your skylights at the time of installation or even later.
Myth #3: Installing a Skylight Is A Time-Consuming and Expensive Project
Adding a skylight to your home when you're building it from the ground up is a pretty straightforward process. However, most homeowners feel intimidated when it comes to renovations or updating their properties. That's when the whole process of installing a skylight can seem confusing for many inexperienced homeowners.
However, when you opt for reliable brands like VELUX skylights, you can sit back and relax. With a VELUX skylight, you'll get everything you ever need to install your skylight quickly and flawlessly. In fact, adding a new Skylight doesn't take more than a couple of hours for an experienced professional.
That being said – more complex projects can take some time, but fully trained and certified installers will make sure that it's a completely stress-free experience for you. The whole process, including cutting the hole, installing the skylight, and cleaning up afterward, will run smoothly and efficiently when handled by skilled professionals.
Myth #4: Skylights Need a Lot of Maintenance
Most homeowners are still oblivious to advanced material options like Clean, quiet, and safe glass that we use in our skylights. Unlike ordinary glass, this technologically advanced patented glass doesn't cause the water to form spots and has therefore minimal cleaning needs.
Since our glass comes with an extraordinarily smooth surface, it helps in dispersing water uniformly. This, in turn, can drastically reduce the chances of water spots being formed on the surface. As a result, you'll enjoy your skylights all year round without constantly worrying about cleaning it every day.
Myth #5: Skylights Only For Day-lighting
Well, this one is partly true as far as the traditional skylights are concerned. Ordinary skylights are designed to provide light only during the day. However, if you're looking for advanced options, you can choose the innovative VELUX Sun Tunnels fitted with a night light. The solar-powered night light can be attached discreetly and seamlessly on the inside surface of VELUX Sun Tunnels. This solar night light gets automatically charged during the day, and can be used as a source of light at night.
For more guidance on skylights and to know the best options for you, get in touch with our Baton Rouge, LA experts today!