Find yourself needing roofing services for your Slidell, LA home?
If so, call Roof Crafters today and have peace of mind that your home and family will be taken care of. 
Watch one of our latest roofing client video reviews
Roof Crafters is a CertainTeed Corporation Select Shingle Master roofing contractor in Slidell Louisiana. Less than 1% of roofing contractors in the United States are Select Shingle Master with the CertainTeed Corporation. This strategic partnership with CertainTeed means Roof Crafters can offer up to a 50-Year warranty on every new roof installed using CertainTeed roofing products. 
At Roof Crafters, we have worked very hard to build a solid reputation. Read one of our latest 5-Star Google reviews, and then click the Google link and check out all our almost 300 Google reviews from Louisiana homeowners just like you. 
We're not perfect but we stand behind our work. 
The #1 thing we strive for is a great client experience for you. Read how Roof Crafters stands behind every new roofing job. Read how happy Mr. Vic was during his process.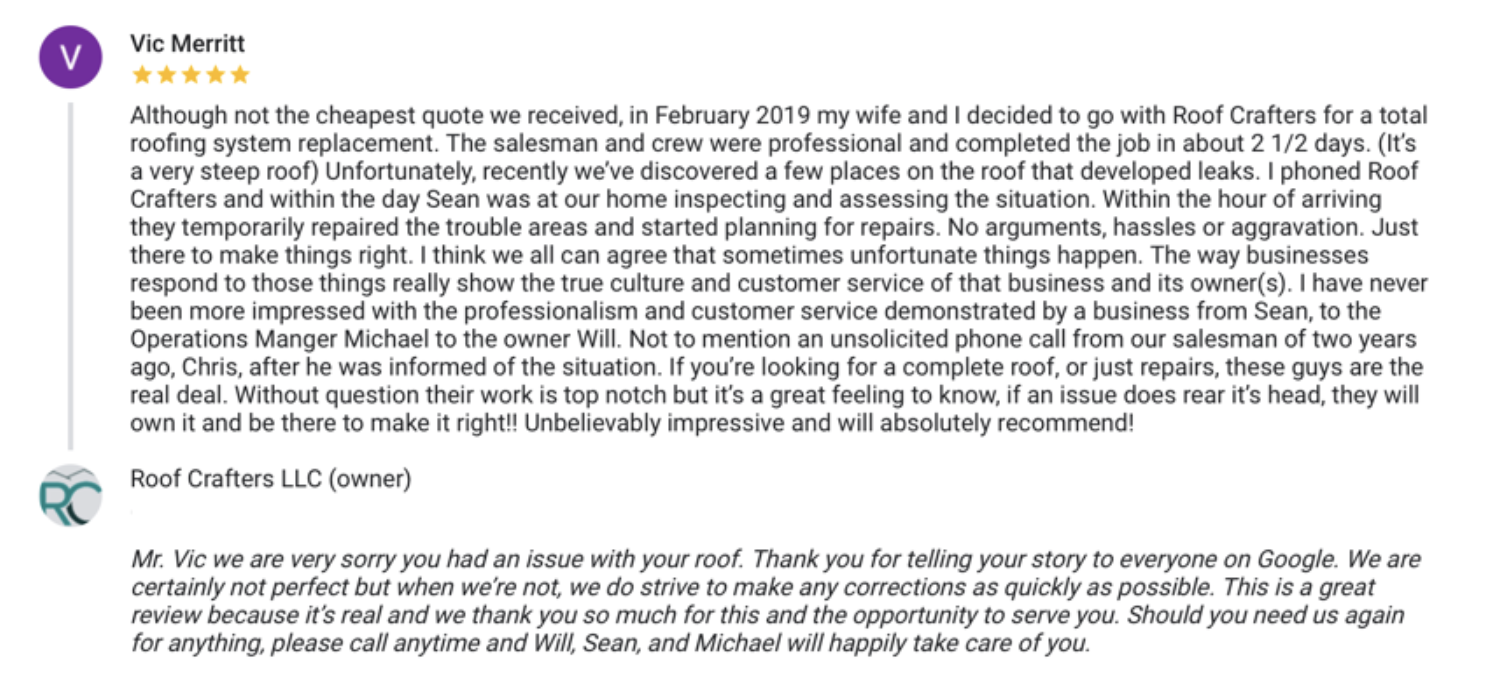 Google Reviews
A Little About Our Owner, Will Lampton
Here to Please You on Every Roofing Project. That's what Will brings to your home. Will has almost 30-years in the construction industry. From fully remodeling homes to roof repairs to new residential asphalt roofing systems, Will has done it all. 
Watch this video of Will telling just what Roof Crafters believes as a company!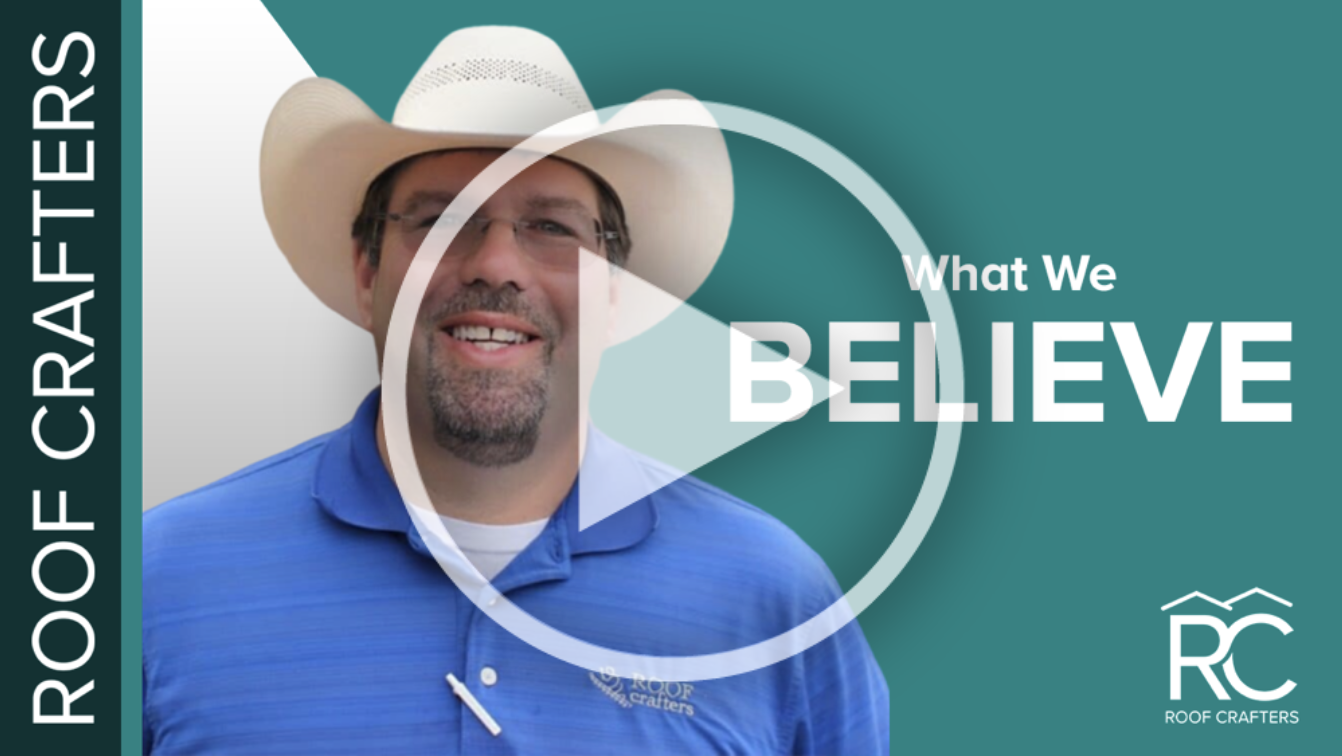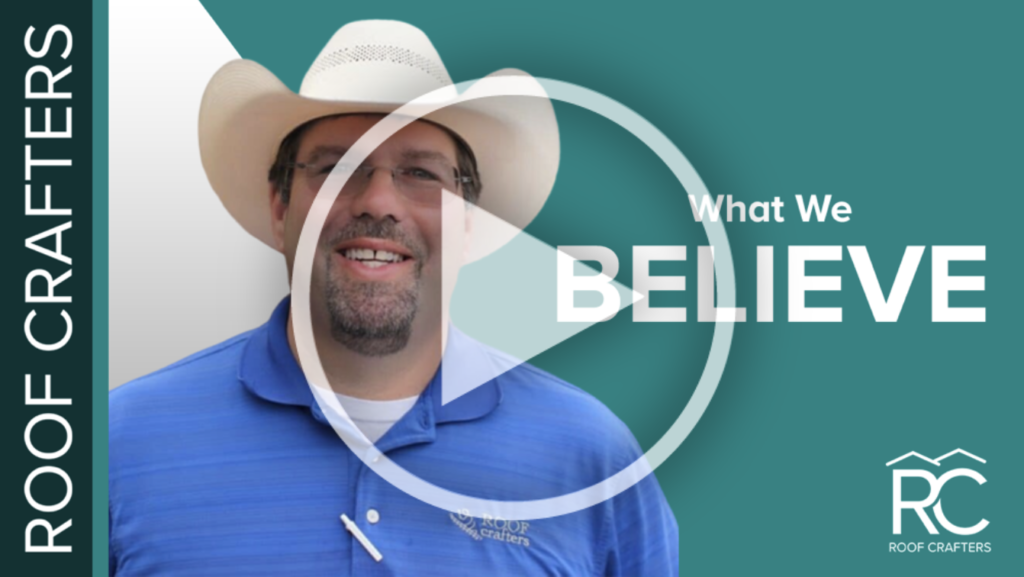 Roofing Services Offered in Slidell Louisiana
 As a roofing contractor in Slidell Louisiana, Roof Crafters offers roof washing, roof treatment, roof repair, and new residential roofing systems for our Slidell homeowners.
Roof Washing
If you have dark streaks on your roof or maybe the entire roof is black but should be gray, you probably need a roof wash. Roof Crafters has a soft wash system for your roof that no other roofing contractor in the state of Louisiana has. Yes, you heard that right, Roof Crafters has an exclusive on the Roof-A-Cide roof wash system.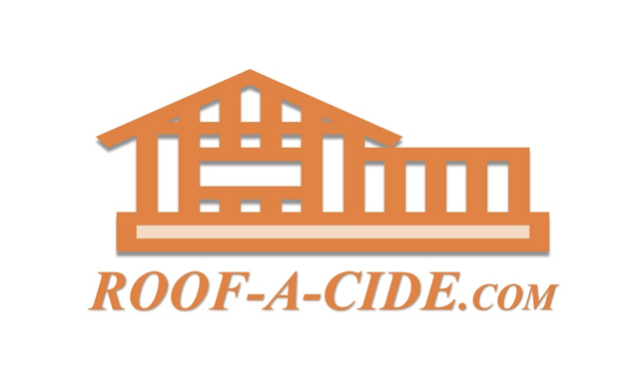 Check out our video showing how Roof Crafters can wash your roof and make it look new again. 
Roof Treatment
You may be asking what is roof treatment? Roof treatment is done after we complete washing your roof. When Roof Crafters treats your roof with our exclusive Roof-A-Cide roof treatment products, you get a 2-Year guarantee that algae will not grow back on your roof. Not only do you get the 2-Year guarantee, but this also means you never have to wash your roof again. Get your roof on the exclusive Roof Crafters Platinum roof maintenance program and have your roof looking new from now on. 
This is something that can't be done with other roof wash products like bleach and chemicals. Roof Crafters is the only roofing company in Louisiana with the Roof-A-Cide roof cleaning and treatment and this amazing guarantee against algae growth on your roof.  
Roof Repair
If your roof has a leak or problems other than just not looking good, a roofing contractor in Slidell Louisiana is what you need. At Roof Crafters, we love doing roof repairs. We believe that many homeowners that buy a new roof can use a roof repair and get many more years of good service life from their current roofing system. 
Call Roof Crafters today and have one of our trained project managers come and give you a free roof inspection and find out if you need a roof repair. 
Have Roof Crafters repair your roof, then have Roof Crafters wash and treat your roof for a brand new looking roof without having to pay what a new roof costs.  
New Residential Roof Installation
If you have had storm damage to your roofing system you may need a new residential asphalt shingle roof by Roof Crafters. This is what Roof Crafters is best known for, great roofing systems and a smooth experience for our clients. If a roof repair just won't solve your roofing problems, it may be time for a new CertainTeed roofing system from Roof Crafters. 
Have one of our trained project managers give you a free roof inspection first then you can discuss an estimate for a new roofing system. 
Roofing Contractor in Slidell Louisiana: About Our Great City
If you have ever wondered what the Slidell, LA GEO code is, wonder no more. 
Check out some interesting facts and some local history about Slidell that maybe you didn't know or haven't thought about lately. 
Slidell city website: www.myslidell.com
Slidell services areas for Roof Crafters by Zipcode: 
70458, 70459, 70460, 70461, 70469
The only area code we have for Slidell, LA is: 985
Our GEO Coordinates: 30°16′45″N 89°46′40″W
Slidell is a beautiful city in St. Tammany Parish, LA. Located on the northeast shore of Lake Pontchartrain. Our city is not huge when you think in terms of population. As of the 2010 census, there were only around 27,000 people living in Slidell. But if you look at our landmass, we are a very nice size city. Slidell, LA has over 15 sq miles of landmass making room for some great parks and open areas for the kids. 
Slidell's beginnings go all the way back to 1836 and a man named Foster Willie. Foster was one of the earlier settlers and like so many small towns back in that time, was centered around a lumber mill. 
Slidell the city was founded in 1882 during the construction of the New Orleans and Northeastern Railroad. This was what connect New Orleans to Meridian Mississippi. Slidell was named after Confederate ambassador to France Mr. John Slidell.  
---
Frequently Asked Questions for Your Roofing Contractor in Slidell Louisiana
Do you do roof repairs in Slidell or just Baton Rouge? 
Yes, we do roof repairs in Slidell as well as the greater Baton Rouge and Hammond areas. At Roof Crafters, our first goal is to repair your roof. If a rock-solid roof repair will not fix your roofing issues, then our project manager will discuss a new roof with you. 
Do you install metal roofs? 
Yes, metal roofs are a growing segment of the residential roofing industry. Even with the increases in metal prices, homeowners still see a huge value in the length of lifespan for metal roofs. Depending on your roof style a new metal roof could be a great choice for your new roofing system.  
Do you sell attic insulation? 
Yes, Roof Crafters is Top Of The House certified with the Owens Corning Corporation. This gives Roof Crafters advanced training in attic insulation as well as attic ventilation, and what your needs are with your roofing system. Most people do not know but your attic insulation & ventilation are part of your roofing system. It takes all parts of your roofing system to protect your home and get the full life expectancy from your roofing system. 
Will washing my roof cause a roof leak? 
If Roof Crafters did not install your roof, we can't guarantee that a small leak will not occur during the roof wash process. Depending on the roofing materials used and the quality of the workmanship it is possible for a small leak to happen. Roof Crafters will first do a thorough roof inspection and give you a full report. If our project manager sees danger, he will inform you of it. 
 Can you install a metal roof on a mobile home, and do you do this? 
Yes, you certainly can install a metal roof on a manufactured home. We have installed hundreds of metal roofs on mobile homes in the past 10-years. Metal makes a great roofing system for most mobile homes. There are a few additional steps we take at Roof Crafters due to the low slope of most manufactured homes' roofs. Call and have one of our project managers give you a free estimate for a metal roof on your mobile home.