What it Takes to be a Roofer. Working as a roofer is both challenging and dynamic yet rewarding. Becoming a Roofing Professional has many rewarding aspects from the ability to help people find relief from pain and discomfort caused by leaks, cracks, or damage to their homes and businesses.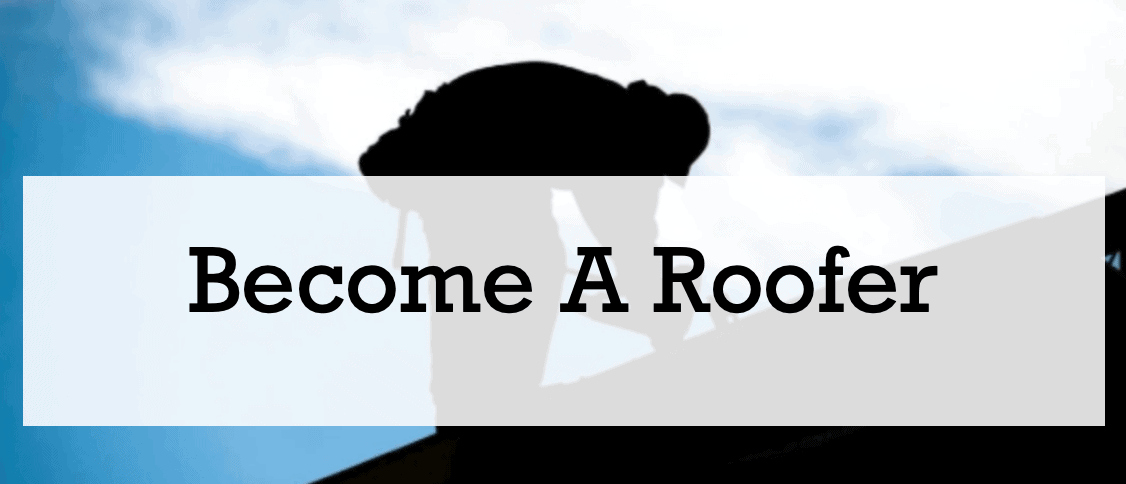 Whether you re-shingle residential homes or install flat roofs on commercial buildings, the experienced roofer has a job that constantly challenges them mentally and physically. The job offers great flexibility but requires long hours and hard work as well as the proper education.   From helping homeowners understand what repair options are available to them so they continue living in their homes during the repair process to inspecting commercial buildings for safety concerns, you will find that your job is varied and dynamic.
The roofing industry is experiencing growth due to a growing economy and population, as well as an increase in the number of homes being built. If people continue buying homes and building roofs, the demand for safe, sturdy roofs will only grow. However, just like any career, becoming a roofer requires some upfront investment and personal work. If you have always dreamed of becoming a roofer but are not sure what it takes to be successful in this field, here are some characteristics that separate the best roofers from the rest.
What Does it Take to be a Roofer?
You often don't need formal training much like a carpenter or plumber, but instead, your training is done on the job through an apprenticeship. Roofing can be physically demanding work and isn't for everyone. Anyone planning to become a roofer should be in good enough physical condition to lift light objects and stand on their feet for long periods of time during their job. You also need to be able to meet the physical requirements of the job such as strength and balance it requires replacing or repairing a roof.
Education & Training
Oftentimes, roofers begin their training on the job. Apprenticeship programs are a great way to get into the roofing industry. Most apprenticeships are done on-site, so you'll learn alongside experienced roofers. Paid apprenticeships and coursework are also common — and recommended — for individuals looking to get into the roofing business.  A significant portion of the training program will focus on safety precautions, such as knowing the dangers of working alone on a roof and proper communication techniques with coworkers. In addition, you'll learn how to use various tools ― including hand and power tools ― safely. Training may also include classes on how to determine which materials are best suited for your home or business, how to repair leaks in chimneys or rain gutters, and more.
While there are no specific licenses or certifications required to become a roofer, other courses that can give you an edge in the industry include mechanical drawing, building and construction, mathematics, and blueprint drawing, and reading.
According to a survey conducted by Owl Guru, the top five skills and knowledge areas that are most important for roofers include building and construction, design, mathematics, education and training, and customer and personal service. Roofers who pursue separate certifications in these areas can improve their job security. Aside from that, try to become familiar with different types of roofing materials such as asphalt, metal, concrete tile, or shingle roofs. The more you know, the better off you'll be when it comes time to negotiate for a better price on your next project. These courses can be taken at a variety of technical and online schools. Most roofers learn the trick of the trade between one month and one year. That timeline can vary, however, based on the complexity of each roof and job site.
Personal Traits & Characteristics
If you are thinking about a career as a roofer, you should know that it takes hard work and determination to be successful in the field. One of the primary factors that will determine whether you succeed is your drive and ambition. Roofers need to be strong-willed individuals with the determination to overcome a variety of challenges that arise during their day-to-day job. Aside from that, there are particular personality traits that bode well for this type of career.
According to another survey conducted by Owl Guru, the top five most in-demand characteristics for successful roofers are dependability, attention to detail, integrity, concern for others, and self-control. 
A dependable personality is a must for any roofer. This means being able to communicate with your clients, work hard to earn their trust, and being detail-oriented when it comes to ensuring that every square foot of a homeowner's roof is properly repaired. As part of this process, you must be willing to answer any and all homeowner questions – after all, if the job isn't done right the first time around it could lead to major problems down the line. While some may have a natural talent for this area, most will need to develop proper communication skills, as well as learn about the different types of shingles and flashing materials. 
 Additionally, it's no secret that roofing work requires a certain level of physical fitness. While physical fitness is important for most jobs, it's especially critical for roofers as roofers are often tied onto roofs with ropes and harnesses, meaning strength and balance are extremely important if you want to avoid accidents. The roofing job is definitely one that requires attention to detail, and if you're not careful, a slip could result in serious injury or even death. 
The only thing we know for sure is that roofing is not like any other job. You're exposed to weather elements including rain, ice, snow, and heat, and often working at heights. If this sounds like a job you would love to do but have an aversion to heights, then maybe roofing isn't the job for you. 
Interested in the Roofing Industry? Talk to the Team at Roof Crafters
These characteristics all play a key role in helping you become a successful roofer. Whether you want to be a general contractor or specialize in residential or commercial roofing, the profession has many opportunities for growth depending on your skillset. By understanding how these elements contribute to success, you will be able to mold them into your own unique identity and ultimately seize the opportunity of becoming a successful roofer.
If roofing sounds like the industry for you, visit our careers page and explore open positions. You may also contact Roof Crafters at 225-667-1189 or visit us online to request an estimate if you are looking for a roofing contractor for your roof replacement. Our roofing professionals take pride in the work they do and are committed to providing you with quality service. We understand that choosing a roofing contractor can be stressful, so we do all we can to ensure you get the best service possible for your home or business.