Roof Crafter's top 5 roof maintenance tips everyone should know. The time when the weather gets warmer is the best time of the year for most people. We all dream of spending time in our garden, adding new plants to it, or just relaxing on the patio with our loved ones. While it is fair to enjoy the beautiful sunny weather, it is equally important to conduct regular roof maintenance. There could be water damage, and perhaps your roof has undergone some structural damages which need to be taken care of before it accelerates.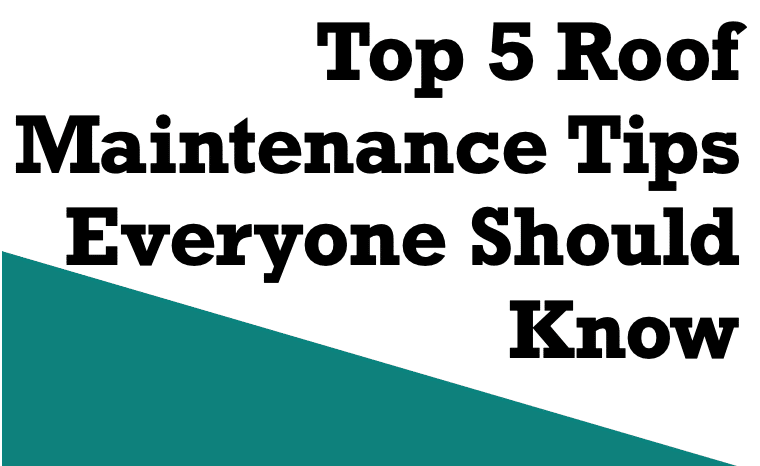 With that in mind, let's look at the top 5 roof maintenance tips everyone should know so you can use them to extend the lifespan of your roof and protect your roofing investment.
 1. Conduct Regular Roof Inspections
The National Roofing Contractors Association (NRCA) recommends conducting at least two roof inspections by professionals every year. One should be after summer and the other after winter, to see if the extreme weather has caused any damage. Typical damages include shingles deterioration, flashing, protrusions, and flashing. Although these may seem minor at first, they can quickly build up to costly repairs. If you notice any gaps or cracks, it is better to have your roof inspected right away. This is one of the top 5 roof maintenance tips everyone should know.
 2. Clean the Roof 
The severe snowstorms during winter and the showers during spring bring with them twigs, seeds, leaves, and other debris that can clog your roof and its gutters. Cleaning the gutters is important so that the flow of water is steady and does not fall back onto the roof. At the onset of spring, make sure to trim any overhanging branches or trees near your house. These could potentially be blocking the drainage system or causing damage to your roof and home during storms. This is the second of the top 5 roof maintenance tips everyone should know.
 3. Ensure Good Ventilation 
The lack of ventilation in your home, while being unhealthy to the people living inside, also causes ice dams, mold, and other issues on your roof. The moisture built inside your house needs a way to get out. Otherwise, it will condense on the roof and cause damage. Remember – moisture accumulation is the biggest enemy for your roof. According to the Federal Housing Association, you will need at least 1 square foot of ventilation for every 300 sq. ft of attic space. Surprisingly, many standard homes do not meet this. While you call for a professional roof inspection, ask them to check the attic ventilation as well. This is the third top 5 roof maintenance tips everyone should know.
 4. Ensure Your Roof Damage Is Covered 
Review your home insurance policy and make sure it covers roof damage. This way, you will be protected against unforeseen factors such as the weather that may cause damage to the roof. Many standard policies do not cover specific cases such as floods. Ensure that you read your insurance document carefully. Do remember that roof repairs can get extremely costly. If the damages are extensive, they can go beyond even $50,000. Having extensive insurance coverage protects you against these costs. This is the fourth of the top 5 roof maintenance tips everyone should know.
5. Get an Extensive Warranty 
Make sure you know your warranty inside out to know what is covered and what's not. It can help you negotiate with professional roof inspectors. Some roof warranties claim that they provide a lifetime warranty, but it is just limited to 20-30 years. However, the warranty from trusted manufacturers is for 50 years and it is transferable and covers a wide range of roofing activities. This is the last of the top 5 roof maintenance tips everyone should know.
Conclusion
Follow these roof maintenance tips to keep your roof in good shape throughout its lifespan and beyond. Extreme weather conditions can damage your roof and result in extensive damage. If you are looking for a professional roofing inspection, look no further than Roof Crafters in Baton Rouge, Covington, Denham Springs, and Hammond, LA. You can call us at 985-241-8045 and get started with your FREE consultation today.