Louisiana Roof Crafters is here to give you signs that you are working with the wrong roofer. You have put off the roof replacement for as long as you possibly could, only now you realize that it isn't going to go away on its own. So, what do you do? What should you look for in a good roofing contractor?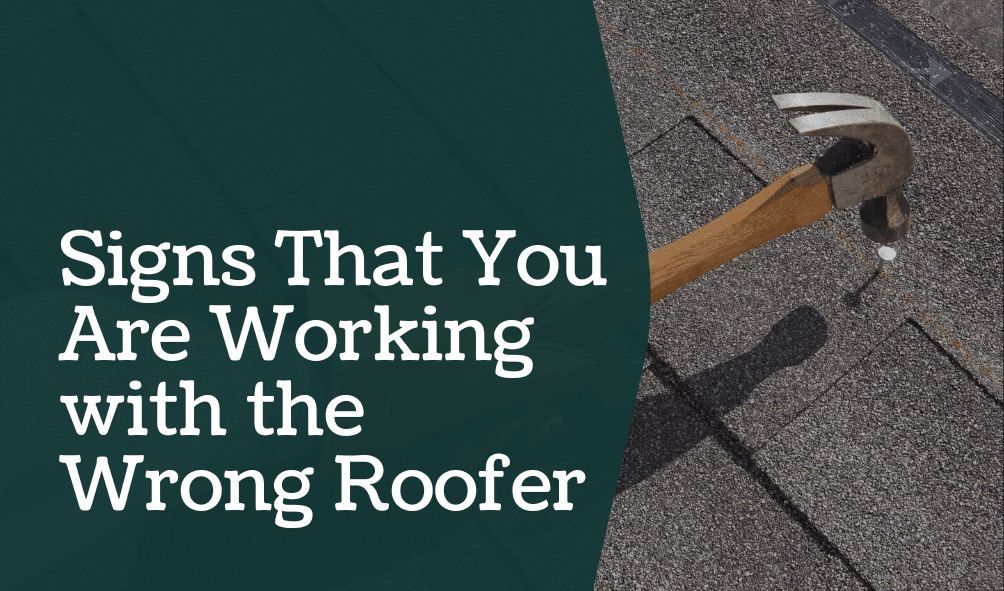 Getting the right roofing contractor comes down to several factors, including the cost, time, and warranty. In this article, you will learn about the 10 warning signs that you are working with the wrong roofer. Let's get started!
Did Your Contractor Walk Your Roof and inspected it?
You can estimate the amount of material you will need to replace your roof using Google Earth, but a roofer can only provide an accurate quote after walking the roof and inspecting the attic.
A reputable roofer needs to examine the roof and all its components before giving a quote. By doing otherwise, the roofer could later demand more money for the damage that should have been discovered before the estimate was prepared.
Did Your Roofer Quote You a Low Starting Price Only to Jack it Up During the Installation?
Some roofers will underbid their competition and then they try to charge more once the shingles are removed. This is called the bait and switch scam. Although there may be more than average rotting decking beneath the shingles, it is a variation of the old bait and switch scam.
Did Your New Roof Quickly Spring a Leak?
The flashing or the roof could have been installed improperly. While this may be an honest mistake your roofer can easily fix, it could also indicate deeper systemic problems. Cut-rate materials or fasteners could cause the leak.
If you hire an underhanded roofer who comes in with a drastically lower bid than the competition, you are guaranteed to pay a lot more when your roof leaks or wears out years before it should.
Did Your Roofer Neglect and Avoid Certain Replacements?
The roof vents, like shingles, have a limited useful lifespan. A reputable roofer will always include their replacement in a quote. That is also why consumers need to read the itemized estimate carefully to ensure they have included new roof vents. Poor ventilation is one sure way to increase your utility bills and decrease the useful life of your new roof.
Have You Taken a Good Look at Your Roof and Inspected it Yourself?
When a competent roofer strips off the old shingles, they check that the roof decking does not have signs of rot. Water-damaged wood will fail to hold the roof nails in place for long if not replaced before new shingles are installed. If rotted support timbers aren't replaced, the result could be the collapse of a portion of the roof. Be on the lookout for this.
Can You Communicate with Your Roofer?
A reputable roofer should respond to a question or concern within 24 hours, whether during or after installation. If the roofer fails to respond or takes a long time to respond, it is an indication that they care more about the bottom line than about establishing a relationship with you.
Is Your Roof Warranty Worth the Paper it's Written On?
Every homeowner should have an insurance-backed roof warranty, but it is useless if the roofer doesn't honor it. That is why your roofer should not only be licensed and insured but a local roofer with a long history in the town.  If your roofer moves out of town or goes out of business, the warranty you receive won't be worth the paper it's written on.
Choose the Right Roofing Contractor the First Time
 You should discuss your roof replacement with a roofing company before you hire them to make sure the roof replacement is a good fit for your house, both in terms of comfort and structural integrity. Make sure they have proper licensure and an experienced team to work with.
You now know how to find the right roofing contractor and avoid the wrong ones by using our tips and tricks. If you are ready to schedule your inspection, simply contact us. One of our eager representatives will get back to you as soon as possible. In the meantime, feel free to browse through the extensive resources located in our learning center. There, you can find insightful insider information about the roofing industry and the services they provide. 
Call Louisiana Roof Crafters at 985-238-4575 for more information. We service areas in Baton Rouge, Denham Springs, Hammond, Covington, Mandeville, Slidell, and New Orleans, LA.